Mister Moneybags by Vi Keeland
April 24, 2017
Dear People! Please do yourself a favour and go read this book!
MY REVIEW:
This book was one of the best reads ever! I loved it! I read it on my way from Zürich to London and then from London to Brighton. And guess what - I did not talk to anyone. I forgot the whole world around me. It was just me and the book. I mean it when I say that I need a Dexter Truitt in my life. I just really really need him. I would literally lick the bottom he lays his feet on. This addicted I am to him, people. It's not healthy anymore. And please look at this cover, DAMN IT!
Well yes, this book is about Jay and Bianca + Dex and Bianca.
It was such a lovely, down to earth and fantastic read. I loved every aspect of it. The scenes were written incredibly good and easy on eyes.
I expected so much and every one of my expectations got fulfilled and more.
The authors are just such amazing human beings - There are a lot of perfect couples in books but these two surpassed the measure. I did enjoy it too much.
This is a note from myself to you. I am writing this today, the 11.05.2017. My message: This review here; is just too shittie. Don't read it. I can't bare the thought of people reading it. This book was far too good to be reviewed this badly. I am so sorry!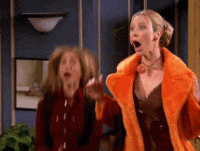 Me while reading this book!
I'll put the blurb just down here:
I met Bianca in an elevator.
She was on her way to interview me when we got stuck.
The beautiful, raven-haired reporter assumed I was a delivery guy because of the way I was dressed.
She had no clue I was really Dex Truitt, the wealthy, successful businessman she'd dubbed "Mister Moneybags"—her afternoon appointment.
Bianca told me how much she hated Dex's type—snobby, over educated, silver- spooned men who didn't appreciate the simple things in life.
So, after the elevator finally started moving again, I cancelled the interview and let her believe I was someone I wasn't—a bike messenger named Jay. I loved the way she looked at the fake me and didn't want it to end.
I began dating her as "Jay"—all the while letting her interview the real me over email.
I didn't expect that our chemistry online would be just as hot.
I didn't expect the mess I'd gotten myself into.
I didn't expect that Jay and Dex would fall in love with her.
And she was falling for two men.
And when she found out, we were both going to lose her.
Nothing could have prepared me for that day. And I certainly wasn't prepared for what came after.
All good things must come to an end, right?
Except our ending was one I didn't see coming.
(my comment: You really don't see the ending coming... Well not the ending but the Plot Twist)